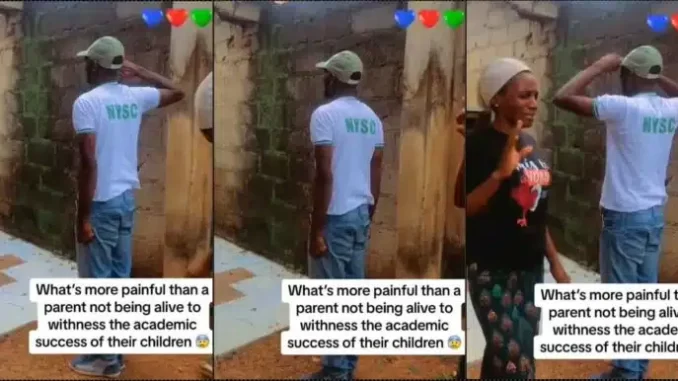 A corper whose parent did not witness his academic growth pays his respect at their grave amidst tears as he completes his National Youth Service program (NYSC).
A video making the rounds on social media captured the tear-jerking moment a young man gave a salute to his parents in their grave.
Advertisement
The copper is seen making a salute while releasing his headrest as done in NYSC orientation camp. He could be heard sobbing just as much as those in the background of the video.
"What's more painful than a parent not being alive to witness the academic success of their children," he captioned the video.
Advertisement
The video has since sparked emotional reactions from social media users who felt touched by the corper's action.
"Diz is true definition of EMOTIONAL 🥺I PRAY YOU BECOME SOMEONE IN LIFE," a social media user wrote in reaction.
Advertisement
Another added, "I cried with you my brother for honoring your parents. It is well with you. You will live to celebrate your children."
Watch the video below …
Advertisement

READ ALSO: