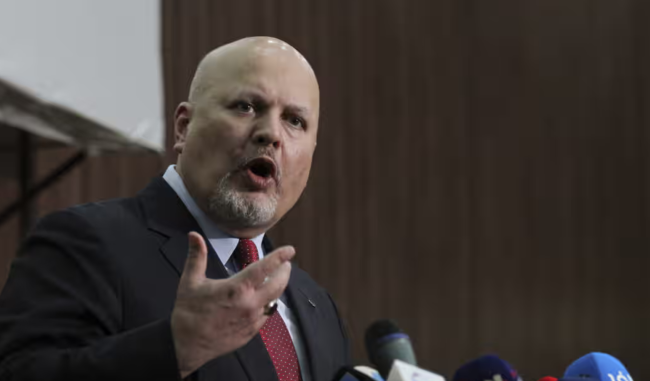 The Russian government on Friday announced sanctions against the International Criminal Court prosecutor, Karim Khan, who is seeking the arrest of President Vladimir Putin, over war crimes charges.
Moscow, which also announced sanctions against British ministers who have fiercely opposed its offensive in Ukraine, issued a warrant of arrest for Khan who in March prepared a warrant for the arrest of President Putin.
Advertisement
An Al Jazeera report quoted Russia's state-owned TASS news agency as reporting on Friday that Khan, the prosecutor at the Hague-based war crimes court, was added to the Interior Ministry's wanted list, citing the ministry's database.
It was reported that a picture of the ICC prosecutor, who is a citizen of the United Kingdom, could be seen in the Russian interior ministry's database on Friday.
Advertisement
Russia's Investigative Committee, which handles major crimes, said in March that Khan was being probed for the "criminal prosecution of a person known to be innocent" – in reference to the war crime charges against Putin.
Khan was also being investigated for allegedly preparing "an attack on a representative of a foreign state enjoying international protection", Russian investigators said at the time.
Advertisement
The ICC member states on Saturday said they were "deeply concerned" by Russia's decision.
The Presidency of the Assembly of States Parties to the ICC, the court's management oversight body, said in a statement it "regrets these acts of intimidation and unacceptable attempts to undermine the mandate of the International Criminal Court to investigate, sanction and prevent the commission of the gravest international crimes."
Advertisement
According to Al Jazeera, the court in a separate statement said the measures were "unacceptable" and that it "will remain undeterred in the conduct of its lawful mandate to ensure accountability for the gravest crimes of concern to the international community as a whole."
The wanted notice described Khan as a man born on March 30, 1970 in Edinburgh, Scotland but did not specify his alleged offence.
Advertisement
Russia opened the criminal probe into Khan after the ICC announced an arrest warrant had been issued for Putin over accusations he had committed war crimes by unlawfully deporting thousands of Ukrainian children to Russia.
Announcing the arrest warrants in March, the ICC said there were "reasonable grounds to believe that Mr Putin bears individual criminal responsibility" for the abductions of Ukrainian children, and "for having committed the acts directly, jointly with others and/or through others (and) for his failure to exercise control properly over civilian and military subordinates who committed the acts".
The ICC was later forced to issue a statement of concern after former Russian President Dmitry Medvedev threatened to hit the war crimes court in The Hague with hypersonic missiles. Earlier this month, Kremlin spokesperson Dmitry Peskov called the ICC "a puppet in the hands of the so-called collective West", the Moscow Times reported.
Russia, which is not a member of the ICC, has said the warrant is "void".