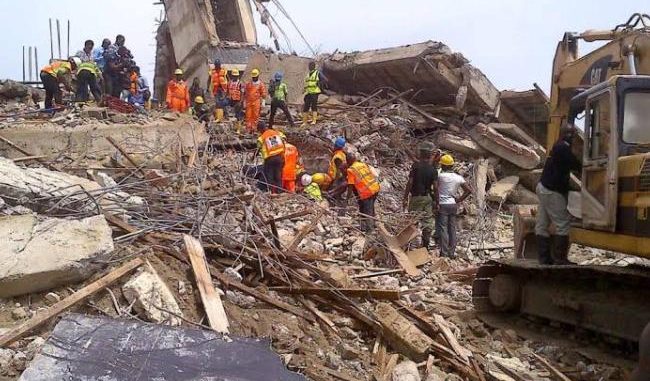 ECTDA chairman revealed that the structure had 44 rooms with about 200 residents.
Four children of the same family has been killed in a building collapse in the Agric Quarters in the Mgbemena axis of Coal Camp in Enugu.
Advertisement
Confirming the incident after inspecting the site of the collapsed building on Saturday, the chairman of the Enugu Capital Territory Development Agency (ECTDA), Uche Anya noted that the bungalow building collapsed on Friday night around 8pm after a downpour.
He said the structure was approved for animal husbandry but was converted to residential.
Advertisement
While lamenting that the collapsed building was not healthy for human residence, the ECTDA chairman revealed that the structure had 44 rooms with about 200 residents.
"As soon as we got the intelligence, we rushed to the place. Four children died in the episode.
Advertisement
"It was danger waiting to happen. The construction was irresponsible.
"The place should never have been occupied by human beings. In fact, go there and see.
Advertisement
"Apparently, they claim that they are doing animal husbandry and poultry there but it turned out that there are 44 rooms that human beings are occupying and there must have been a population of over 200 people there.
"The fence line was totally unacceptable, nobody does that, and unfortunately, the people we lost in that tragedy are innocent children and it is very painful," Anya added.
Advertisement
The chairman said that the agency would continue to sensitise the public on the need to live in a more conducive environment to avoid future occurrence of the unfortunate incident.
According to him, the compliance unit of the agency under his leadership would ensure that structures erected by landlords and contractors adhere strictly to the approval plan.
The ECTDA also gave immediate quit notice to residents of the building and four other buildings close to the scene of the incident.