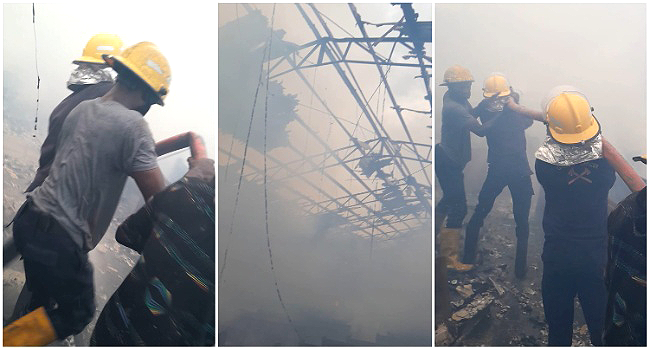 The Kwara State Fire Service says a fire outbreak at The World Assembly Headquarters in Ilorin, Kwara State on Sunday was possibly caused by a power surge.
The Head of Media and Publicity at the service, Hassan Hakeem Adekunle, in a statement made available to Channels Television on Monday, said one Mr Akani made "an urgent call" reporting the incident around 5:08 pm on September 3.
Advertisement
"The fire crew promptly responded to the call. Upon arrival at the scene, they found that a devastating inferno had already consumed the auditorium of the church due to late call despite the significant damage caused by the fire," he said.
"However, the firemen managed to contain the inferno and prevent it from spreading further."
Advertisement
Adekunle added that a subsequent investigation was carried out into the cause of the outbreak, saying, "It was suspected to be as a result of [a] power surge."
See the full statement below:
Advertisement
On Sunday, September 3rd, 2023, at approximately 17:08 hours, the Kwara State Fire Service received an urgent call reporting a fire outbreak at The World Assembly Headquarters along Ajase-Ipo road in Ilorin, Kwara State. The distress call was made by Mr. Akani.

The fire crew promptly responded to the call. Upon arrival at the scene, they found that a devastating inferno had already consumed the auditorium of the church due to late call despite the significant damage caused by the fire. However, the firemen managed to contain the inferno and prevent it from spreading further.

It's worth noting that the materials used for the building's construction were not fire-retardant, including aluminum roofing and plywood for the ceiling. These non-fire-resistant materials contributed to the rapid spread of the fire before the fire service's arrival. As a result, not only the auditorium but also three out of the six offices were affected by the fire.

During the subsequent investigation into the cause of the outbreak, it was suspected to be as a result of power surge

At the scene of the incident, notable figures such as Alhaji AbdulRazaq Jiddah, the Senior Special Assistant to the Kwara State Governor on Special Duties, and Prince Falade John Olumuyiwa, the Director of the Kwara State Fire Service, were present. Additionally, various security agencies, including the Nigeria Police, Nigeria Civil Defense Corps and the Federal Fire Service, provided support and assistance.

Therefore, Director Kwara State Fire Service Prince Falade John Olumuyiwa strongly emphasized the importance of timely reporting of fire incidents by the general public. He urged everyone to call the Fire Service promptly whenever a fire occurs, emphasizing that this swift action is crucial for minimizing the extent of fire damage.

E-Signed by…
HASSAN HAKEEM ADEKUNLE.
HOD. MEDIA AND PUBLICITY
FOR: DIRECTOR KWARA STATE FIRE SERVICE