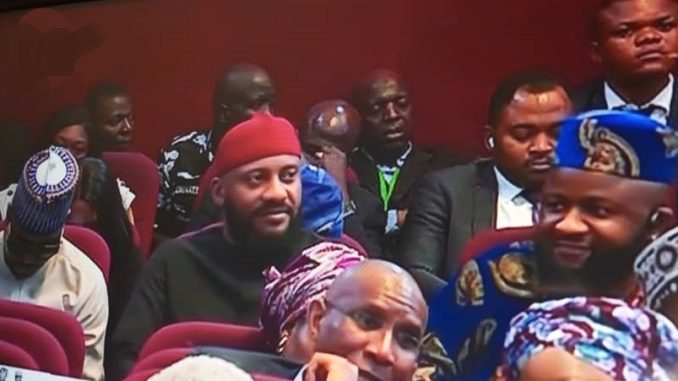 In solidarity with President Bola Tinubu, Yul Edochie, who has named himself 'Tinubu Boy', Zack Orji, and Benedict Johnson among other Nollywood actors on Wednesday stormed the venue of the presidential election petition tribunal in Abuja.
The actors were in court as it delivered judgement in petitions
brought before it by Atiku Abubakar of the Peoples Democratic Party, PDP, Peter Obi of Labour Party and Allied Peoples Movement, APM, against the declaration of Tinubu as president.
Advertisement
They were seen seated in the courtroom full of smiles as the tribunal began to strike out petitions against Tinubu.
The actors, who are members of the actors guild of Nigeria, the umbrella body of the Nollywood actors in the country, divided opinion when Orji led a section of the group to endorse Tinubu.
Advertisement
Their decision to pitch tent with Tinubu also divided the actors guild as the major bloc announced their support for Peter Obi.
Yul who has been in the eye of the storm for months on account of his marital problem was an Obi campaigner before dumping the Labour Party candidate for Tinubu.
Advertisement
He switched his allegiance to Tinubu few weeks after the Independent National Electoral Commission, INEC, announced Tinubu as president elect.
To show his support for the president, he donned a branded native attire showing an embossed picture of the president while in Abuja during the swearing in ceremony of the ministers-designate.
Advertisement
He has also continued to share his allegiance and feelings on Tinubu on social media account with one post on his Facebook account reading, "ASIWAJU BOY. 100%. UNAPOLOGETICALLY.
"I LOVE TINUBU. I BELIEVE IN HIM.
AND I'M PRAYING FOR HIM TO SUCCEED."
Advertisement
In another post, Yul said, "As a leader, you will see certain things your people may never see.
You will have access to certain information that your people may never have access to.
Advertisement
"So some of your decisions may not be fully understood by the people, even though they're in the best interest of the people.
"You have my support Mr. President Sir. I know you're a man of wisdom. May God guide you in all the decisions you make for Nigeria. Best Wishes, Mr. President. THE JAGABAN."
Orji on his part, however endorsed Tinubu ahead of the presidential election in July 2022 in a viral video stating, "My support for Asiwaju Tinubu is personal. I've lived in Lagos for over 40 years of my life. I've always known this man as a chief crusader for the democratic consolidation of our country Nigeria."